Table of contents
The cryptocurrency market has been known for its volatility, which has been all too apparent with the recent price movements of PEPE, a popular meme coin. As the coin's value plummeted, a group of large-scale investors, often called 'crypto whales,' seized the opportunity, snapping up a staggering $2 trillion worth of PEPE.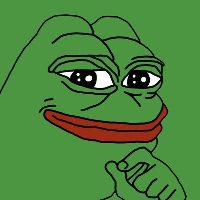 The whales' strategy seems to capitalize on PEPE's lower prices to position themselves for potential gains. Their collective purchase has been so extensive that it has significantly impacted PEPE's trading volume, further influencing its price behavior.
The aggressive buying spree by these whales showcases their conviction in PEPE's potential despite the broader market downturn. This accumulation could indicate their confidence in the coin's potential for recovery and subsequent growth.
For the uninitiated, 'crypto whales' are individuals or organizations holding a significant amount of cryptocurrency. Their investment activities can considerably impact the market due to the sheer scale of their transactions.
While the falling prices have alarmed some investors, others view it as an opportunity to buy at a lower price. This 'buy the dip' mentality is a common investment strategy in volatile markets and appears to be the approach the crypto whales are taking with PEPE.
However, it's important to note that while the crypto whales' actions may instill confidence in some, investing in cryptocurrencies, particularly meme coins like PEPE, comes with significant risks. Investors should always perform their due diligence and cautiously approach such investments.
As the crypto market continues to evolve, the movements of these crypto whales will undoubtedly continue to attract attention. Whether their gamble on PEPE pays off remains to be seen, but their actions provide an intriguing glimpse into investment strategies within the ever-volatile cryptocurrency market.
Caution:
While this development in the cryptocurrency world is intriguing, it's crucial to reiterate that investing in cryptocurrencies, including meme coins like PEPE, comes with a high level of risk. The market's volatility, regulatory uncertainty, and potential for significant losses are factors that every potential investor must consider. This article is not an endorsement of any cryptocurrency or investment strategy. Always conduct thorough research, understand the implications of your investments, and consider seeking advice from a financial advisor. Remember, the value of your investments can go down and up, and you may lose your initial investment. Proceed with caution and invest responsibly.
Also, read the following: